SUV for a mountain house is an online article provided for useful information for people intending to purchase and drive an SUV in the mountain environment.
If you wanted a truck, a high-end Ford F-150 Lariat 4×4 would be an excellent choice.  But this online article is about SUVs.
Ideally, an SUV used in a year-round mountain environment would be a 4×4 or especially capable AWD.  There is ice and snow.  While nothing can move under complete control on a slick of ice, some vehicles have more control than others in snow and partial ice.  Nothing can defeat the laws of physics, but the more anti-skid control you have, the better.  Your life may depend on it.   But there are other reasons influencing people's choices in the vehicle and in particular, the SUV you may want to purchase to use in this mountain region.
Some people are fine with a Ford Explorer, Ford Bronco, Jeep, Toyota 4Runner (which have true 4×4 models).  Many people want a vehicle with more upper end appeal.  For them, there are the RangeRover and G-Wagen, both of which often sell for $150,000+/- depending on options and models.  And that pricetag makes many shy away from those SUVs.
2023 BMW X5 xDrive 45e
There are wannabe 4×4 SUVs that have a variety of AWD names.  There are many these days.
There is one in particular, however, that stands out: the BMW xDrive.  That appears to have true 4 wheel power control, although there doesn't seem to be a locking differential.  Even so, the BMW X5 xDrive exhibits an apparently high level of skid control and traction even in snow.  So much so, that many people buying homes in the western NC area drive BMWs.  For the cost conscious, the compact X3 is a favorite, and for those who want more luxury and room and higher end features, the X5.  The X7 tips the scales and is a bus (because it is huge).  So the X5 becomes a sweet spot for some people that want upper end features and still be in the low $70s with most of the goodies with a medium footprint so it is still fun to drive.
The 2023 BMW X5 xDrive 45e (pictured above) is a decent choice.
It is expensive by most standards (roughly $72,000+/-), but about half of the Range Rovers or the G-Wagen.  And with increasing automotive prices, not much more than the higher end Fords and there are some Toyotas (like the Capstone Sequoia) that are now in the $80k range.
BMW has a 12 year unlimited miles no rust perforation warranty, which speaks volumes to their build quality, particularly at joints and coating quality.  The basic bumper to bumper warranty is 4 years or 50,000 miles (which is a year more and 14,000 miles more than many other brand). Powertrain warranty is 4 years or 50,000 miles.  Hybrid system warranty is 8 years or 80,000 miles.  Free routine maintenance: 3 years.
The BMW shown above is the mid-sized X5 series.  It has the BMW top of the line AWD, their "xDrive".  Which, from videos, appears to do well in snow up to 6″ deep and possibly deeper. It is also a plug-in hybrid, Which means, if you plug it into a wall outlet, it should be able to start each day with full batteries, which means you should obtain roughly 52 mpg according to BMW.  With rising gas prices, that sounds like a good idea.  And it also has a normal 6 cylinder internal combustion engine, so you should get stuck in some remote place, as long as you have gasoline in the tank. The best of both worlds.
And there's plenty of high-end features to please the most discriminating buyers: self-parking, leather seating (or what passes for leather in most vehicles these days), BLIS features, lane keeping, heads-up display (on inside of windshield), navigation, all LED instrumentation, 54 mile range on all electric mode, pearl-white metallic paint, front ventilated, heated & cooled & massaging seats, surround view 3D, runflat tires, 8 speed auto transmission, garage door opener, privacy glass, heated front seats, armrest and steering wheel, high gloss wood trim, active driving assistant, Sirius Satellite radio with 1 year subscription, WIFI hotspot, wireless charging for phone, front collision warning with mitigation, lane departure warning, rear view camera, luggage compartment and other all weather vinyl floor mats, panoramic sunroof.  And of course, the joy of being able to drive like you're in a Mexican rally road race and have your vehicle stick to the road.  And have the regard of driving a new BMW.
At first, we had heard that the BMW lost too much value too soon.  But after investigating, we learned the BMWs might lose perhaps $5k/year in value, after driving them off the dealer's lot.  And that really isn't all that different from other makes.  So, over 3 years, perhaps you lose $15 to $18k.  Okay.  Not quite as good as the retained value of a Toyota or Honda, but still, not bad.  And there are stories about buying used BMWs and paying a lot for maintenance.  Well, if you buy it new, and maintain it as stated in the Owner's Manual, those people say their vehicles are lasting over 150,000 to 250,000 miles.  Like anything complex, you have to properly maintain it.   Wash, oil changes, other fluid changes, and other things requiring updates.  But make no mistake: a BMW is not a Toyota.  Personally, I'd opt for a high-end 4Runner if I had to have an SUV.  But if  you need a more high fashion statement, the BMW X5 might be a good choice.  Only you can say for sure.
———————————————————————————
For those of you interested in the BMW X5 depicted above, here's a recent (January 2023) tour of the BMW factory where they are made:
So let's start with a video, of the Spartanburg, South Carolina BMW factory, inside the million+ SF building in which the X5s are fabricated and assembled (click on the BMW photo below):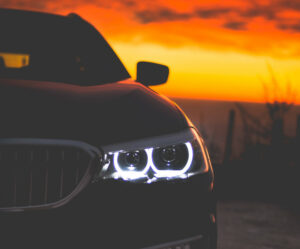 Image courtesy Mattia Righetti Unsplash
That video was courtesy of  Motor Network.  Make sure you select Stop Ads if you start seeing ads about other things.
And here are several photos taken during the recent tour of the 7 million Square Foot 1150 acre BMW Factory and Museum in Spartanburg, SC, USA: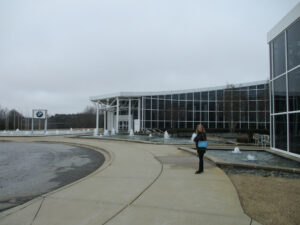 This is the BMW Zentrum just off SC 101 in Spartanburg, SC.  Zentrum means "Center" in German.  However, this is really the Museum for BMW.  On the day there, 39 people took the 2-1/2 hour tour through the factory, which is reached by luxury buses.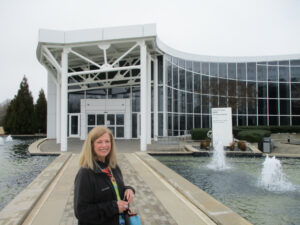 The main entrance to the BMW Zentrum.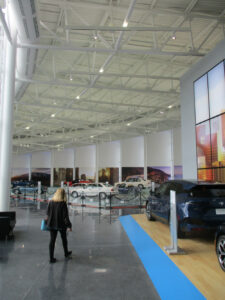 Part of the amazing BMW Zentrum museum interior.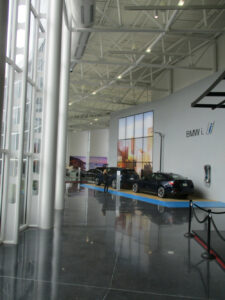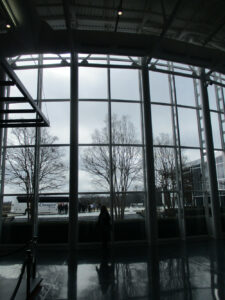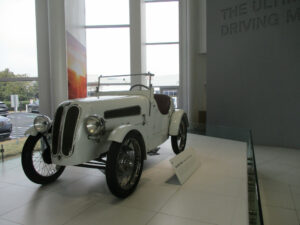 1930 BMW.  Note the double oval grille, which in one form or another, continues through to today.  BMW began in 1916, making aircraft engines, then in 1923 made motorcycle engines, then in 1928 started making automobiles.  In 1951, BMW began making premium vehicles in the post WW2 era, with the BMW 501.  In 1975, the BMW 3 series began, and in 1992, the giant BMW factory in SC began construction.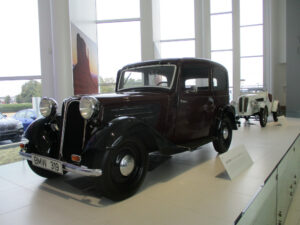 BMW 319 Circa 1937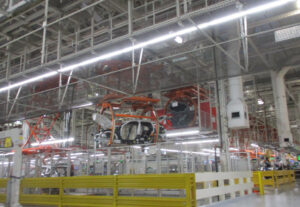 Various compartments are assembled by heavy duty factory KUKA robots, then those pieces are glued and welded together.  The glue, when cured, is stronger than the steel itself.  There are over 6,000 spot welds in a BMW.  The robots do most of the work, but it still takes thousands of workers to guide components into the assembly process.  Much of modern vehicles are made of stamped sheet steel.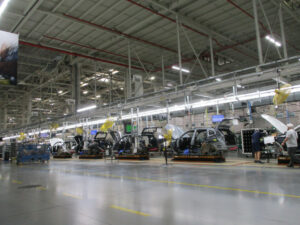 Once the main vehicle bodies are built, then hoods, doors, engines, batteries, dashboards, seats, wiring harnesses, wheels and tires need to be installed.  Heavy, smooth machinery does the heavy lifting and workers guide the large components into place.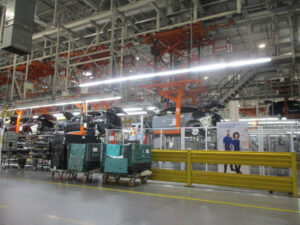 The factory buildings are approximately 40 feet tall inside.  There are several levels where the vehicles move in the assembly line, above or below each other, on their way to required installation areas.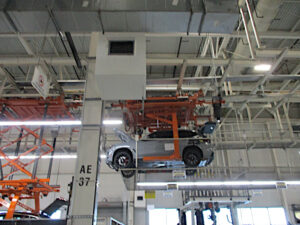 This factory makes 1,500 vehicles a day.  About a year ago, this factory and the people that run it produced more than 433,000 vehicles last year.  Every vehicle being assembled is already sold.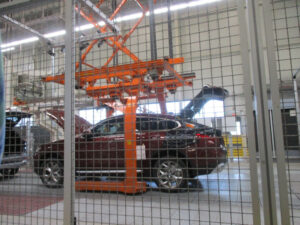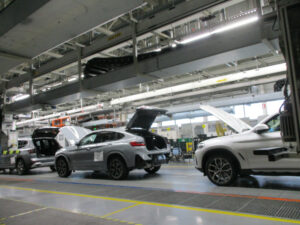 Here, the completed vehicles receive their final quality control checking and start-up testing.
Recommend this tour to anyone interested in vehicular manufacturing, in particular, BMW.  BTW: this is the worldwide only factory of BMW X vehicles in the world and the only BMW factory in the USA.  Its only about 60 miles away from the greater Cashiers area, to the southeast in Spartanburg, SC.  A pleasant half-day activity.