Toilet Selection by Architects is about how this architectural firm went about selecting the best toilet for their own new house, under construction.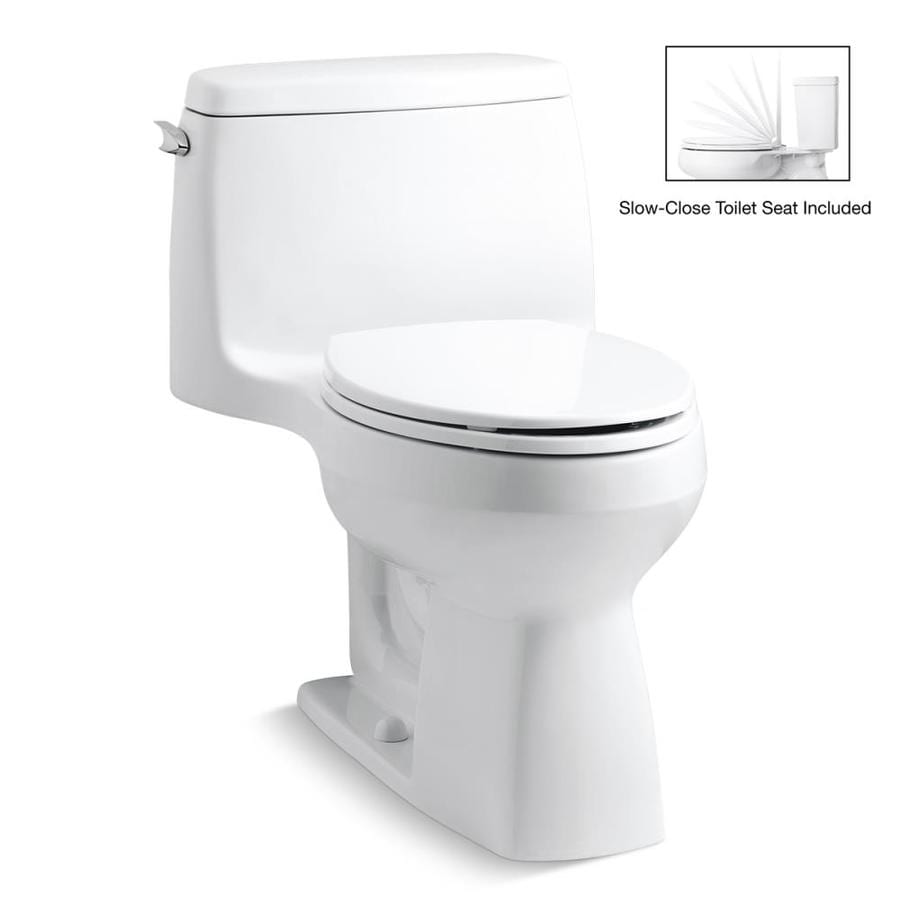 Image courtesy of Kohler
Trying to select the best toilet for your new house or renovation?  Either way, you're about to discover a enormous amount of choices.  Probably as many as there are vehicles to choose from globally.  Hundreds, if not thousands of optional models and brands and features. 
Who would have thought that?  If you think there might be 10 or 20 main brands and models to choose from think again: hundreds and hundreds.
RATIONAL OF TOILET SELECTION
And the rationale behind choosing your toilet? 
Some the same as for a vehicle:
–  Style/Appearance (for you sports car enthusiasts out there)
–  Flushing capability
–  Cleanliness
–  Durability (least maintenance)
–  Retro Rockets ( just kidding: although some people are installing night lights into toilets these days)
–  Easy and quick to install for Plumbers (= saved consumer cash)
–  Easy and simple to maintain (changing economical parts when required/DIY)
–  Chair Height (17″ to 19″ = ADA (Americans with Disabilities Act)= more comfortable height, unless you are under 5′ tall)
–  Slow close seat (so it doesn't slam: this is fast becoming a standard mainstream feature)
–  1 piece or 2 piece (as in: integrated water tank or separate).
–  Special coatings for enhanced cleanliness
–  Old school ball and flapper or New Aqua-Piston, compressed air, or other methods of internal components
–  Water volume consumption (G/flush).  the old 3.5g probably isn't available anymore.  These days, more common are: 1.28 to 1.6 g/flush
–  Elongated bowl/seat vrs round (can't imagine why anyone would not want elongated)
–  Skirted sides vrs open sides
–  Complete toilet kit in a box vrs no seat and you buy the other items
–  Seat hold-tight vrs old fashion slip-around seat
–  Easily removable seat for cleaning vrs old school nuts & bolts for removal
–  The above are most of the mainstream features and does Not include the super high-end features of $1,000 to $6,000 toilets with electronic bum-washing/drying, lighting (no kidding), heated seat, automatic seat cover open upon approach and other features nearly equaling a new Corvette. 
BUDGET OF TOILET
At some point, you make an agreement with yourself to not consider toilets over say $400 or $300 or $1,000 or $125 and that sets the stage for your choices.  It comes down to your budget.  So before you get misty-eyed about wanting your toilet lid to spring up and salute you upon your midnight arrival, and turn on a night light inside the toilet and heat the seat, think again about what you want to do with your available funds regarding your house and ask yourself if this is where you want to apply your resources.  If you really want to, you can end up spending more than what a new car used to sell for.  Not kidding.  This Architect, buying for his own new house that he designed, set a budget for the toilets of up to $350 (while preferring under $300).  Also, he wanted all of them to be exactly the same, so that any replacement parts could fit in all of them and so that his learning curve on any DIY parts would be limited.
Sales: watch the big box stores for your chosen toilet(s).  You can often find some really good deals on Memorial Day, July 4, Labor Day and other holidays that Lowes, Home Depot and other vendors recognize as marketing tools to encourage more sales volume.
Weight: be careful to have your purchased toilets delivered exactly to the place where they are going to be installed.  For instance, if you're having a new house built and want to buy various items on sale and store them somewhere else until needed at the new house under construction, just remember that a toilet in a box can weigh between 76 pounds to over 109 pounds.  That's heavy.  And you could hurt yourself trying to move that around by yourself.  Better to have heavy items delivered to the address where they need to be installed and have 2 or 3 big laborers around (on your tab) to pick up the items and take them into the house and place them where the Plumber is going to need to install it/them.  
Schedule: But don't have ceramic items like toilets delivered to a house that is exposed to the weather and is still having operations that could damage the toilets.  It would be best to wait until the house is just about ready for the Plumber to install the toilets.
REVIEWS OF TOILET BUYERS
The choices can be dizzying.  And confusing.  And to complicate matters, there are dozens of reviews for many of the toilets you are considering.  So: if the experiences of other people whom have bought, installed and are using the toilet matter to you, there's more to investigate, evaluate and place some sort of choice "weight" factor.
Something to consider: probably 95% of all toilet purchases (and really, just about anything people buy) are going to have a few negative reviews. 
Does that mean that the product as it is being manufactured today should not be trusted?  Not sure.  But if you adopt that stance, you will probably never find any toilet that has all 5* reviews from all buyers.  Probably doesn't exist.  Because sometimes products are lemons with defects, and/or there are some people that are cranky old poops whom will never be 100% pleased with anything, including a toilet. 
So here's a thought: if there are dozens or hundreds of good reviews and just a few negative reviews (and those negative reviews tend to be from several years ago), you may want to consider the product as generally being liked by the majority of buyers.  While this doesn't mean that you won't find something about your purchase that you won't like, it does tend to favor the odds that you may enjoy your item most of the time.
If one reviewer from 4 years ago says his toilet flushing mechanism exploded and nearly killed him, you might want to consider if that has a realistic chance of happening today.  Or you might not want to buy that kind of toilet.  Very few such toilets exist, anyway.  But at some point you need to make your own decision as to whether or not the chances of such things happening to you are realistic.
WHERE TO BUY YOUR TOILET
A toilet gets a lot of use, on a daily basis, forever.  The chances of something going wrong at some point, are rather high.  And ordering and having heavy ceramic devices like toilets, which can result in breakage is certainly a possibility.  With these things in mind, our Architect decided to Not buy any toilets online/mail order.  Instead, he opted to buy his toilets, with a physical bricks and mortar big box store (but with an online ordering option), through a local store outlet, having their Internet sales specialist help him, and have the items delivered to his under construction house.
The idea of this method: if, after being delivered, any defects were discovered, the Architect reasoned that it would be far easier to return these heavy toilets to his local big box store rather than trying to package them back to a strictly online source (not to mention the postage/shipping charge). And he had no desire to spend dozens of hours on the phone trying to get some online source to agree to accept a return for a refund or replacement.  The Architect has a record of having spent tens of thousands of dollars at the local big box store and personally knows the store manager, Internet Sale Rep and others in that store.  He requested the ability to return damaged delivered goods running through their brand directly to their store and they agreed.  Therefore, buying fragile and heavy items like toilets through them seemed wise (same thing with his appliance purchases). 
ACTUAL TOILET CHOICES/OPTIONS CONSIDERED
The actual toilets considered came down to about half a dozen or so.
The Architect only wanted major toilet manufacturers with a long, continuous positive track record.  He believed these included: Kohler, American Standard, Toto, for his purposes.
With that narrowed field of manufacturers, the desired main options were:
–  Chair height (17″-19″ seat height.
–  Elongated seat/bowl.
–  White (none of the other fixtures in the bathrooms had any ceramic colors, and a color adds a lot of cost).
–  Outstanding flushing performance.
–  Attractive design (one-piece units often fall under this category).
–  Slow-Close seat.
–  Cleanliness.
–  Technology in the tank for flushing that was dependable, simple, and more effective.
–  Complete toilet kit in a box (nothing extra to buy like a seat).
–  1.28 to 1.6 g/flush for lower water consumption.
–  Possibly easy to click-on and click-off toilet seat (for ease of cleaning).
–  Seat non-movement features.
–  Preferably under $350 or so (note prices were as of date of publishing this post and will not doubt change over time, so verify).
The contenders were:
Jacuzzi Primo
from Lowes
$189
one-piece and met many of the above requirements, except not one of the main 3 manufacturers indicated and likely old-school flapper technology (couldn't confirm), and some reviews mentioned needing to flush multiple times to remove solid waste stains.  But its an attractive toilet.  Looks a lot like the Kohler Santa Rosa (but with less advanced technology).
91% recommendation from reviews.
American Standard Clean
from Lowes or Home Depot (with skirts)
$249
A very handsome toilet, with solid side skirts.  Dual flush option at top middle of tank.  Some of the lower reviews complained about flush performance. 
71% recommendation from reviewers.
American Standard ActiClean
from Lowes
$399
More a typical looking toilet, but had auto-feed features of prepackaged cleaning chemicals from tank.  Interesting concept.  However, cost of modular cleaning supplies over decades became a consideration.  Some reviewers questioned the cost and whether the cleaning solution coming from the tank was any better than occasionally taking a scrub brush to the bowl.  Does have interesting VorMax cleaning technology for improved water direction and velocity. 
74% recommendation from reviewers.
Kohler Persuade
from Lowes
$299
Very attractive contemporary designed toilet.  Like this a lot.  Some reviewers said unit didn't mount level (not sure this is fault of maker or installer or floor).
64%  recommendation from reviewers.  This lower level of reviewer score concerned our Architect. Appeared to be equal or more lower review scores than upper.
American Standard Champion 4
Lowes/Home Depot
$239
Architect felt this was a fairly ordinary looking toilet. Some lower reviews talk about leaking (assume from inside tank).  Some reviews are top notch. Others question flushing ability.  Appeared to have a specialized flush valve. 
70% recommendation from reviewers.
Designer toilets from far away Internet
For about a week, the Architect considered $500 fabulous looking designer toilets from a place in Florida, but didn't recognize any major manufacturers and specification information was lacking.  While the styles where amazing, many of the reviews of this provider where rock-bottom, saying the toilets were poorly made, leaked and had all sorts of problems.  While flirting with these for a while because of their high-end appearance, the Architect finally let them go from consideration due to reviewers negative comments.  Don't buy style just to end up replacing them with more conventional dependable units.
Kohler Santa Rosa
Lowes
$299
Also: an additional $25 rebate is in effect (as of date of publishing this post), and Lowes offers 5% off when buying with a Lowes credit card.  So: likely $276 and perhaps another 5% less. 
At present, a lower price than Home Depot (but this can vary).  Also, the model# 98993-0 was indicated by a Kohler rep to include everything, which the HD model 3810 did not (and the price was higher).  So as of this date, the Lowes all-in-one box provides the better deal (but check for the latest pricing).
Attractive one-piece modern design. 
This is a mid-range Kohler, with upper end Kohler flushing technology, the AquaPiston, an exclusive Kohler engineered feature . This is on sale and the Architect believes he has seen pricing for this toilet significantly higher.
This technology has been out there in action for several years.  It is still being used.  There are YouTube videos indicating how to change out the $7 flexible seal at the bottom of the moving cartridge piston.  Appears to work well for a good cleaning flush, and with only 1.28 g/flush.  Has many of the other desired features, but does not appear to have a special super-clean coating other than the normal ceramic.  Has space saving design that provides an elongated bowl in the same space as a round bowl, which means more room in the bathrooms.  Everything included in the box.
Consumer Reports from 2017 indicates this toilet in the Top 5 of 48 toilets reviewed and The #1 Top one-piece toilet of all of them. This counts for a lot.
85% recommendation from reviewers.
—————————————————- 
THE BIG CHOICE
The Architect decided on the:
Kohler Santa Rosa (unit depicted at top of this page)
Lowes
$299
Deciding factors:
–  Available via Internet, through local big box store, where returns are possible locally.
–  Price reasonable and on sale for mid-range Kohler unit.
–  Meets most of the desired features.
–  Advanced flushing technology, with ability to DIY change seal once in a while.
–  Confidence in high-end main stream toilet manufacturer.
–  High recommendation rate % from reviewers.
–  Lower water usage for better flush performance.
–  Attractive one-piece unit for better aesthetics and cleanliness.
–  Top Consumer Reports #1 one-piece toilet.  In the top 5 out of 48 toilets reviewed.
—————————————————–
Now it's your turn to select yours! 
Or, you can ask your Architect to pick it.  It's a big decision that you will live with for decades. 
tags: toilet selection by Architects, Cashiers, Highlands, Lake Toxaway, Sapphire, Glenville, Hendersonville, post and beam, timber frame